The Uniting Church in Australia holds a national conference every 3 years. The 15th Assembly was held in early July 2018 in Melbourne.  Two representatives of the Mid North Presbytery attended.  Below is the report from one of those delegates.
Report on the 15th Assembly of the Uniting Church in Australia
 as presented to Presbytery Meeting on 18 August 2018
To go to Assembly brought with it many thoughts and feelings. Not least among these were, the feeling of being overwhelmed by reports to read, prayer to be had, pathways to be discerned, and practicalities to be juggled.
Prior to Assembly three groups of paperwork were sent to each delegate which contained, the reports and proposals which were going to be presented.  Some 25 reports and some 58 proposals.  Whilst some of these were able to be skipped over, such as proposals to thank various people within the life of the church, it still left much to be read, including the 63 page report on same sex marriage.
Jason and I have agreed to talk about separate proposals and reports that were tabled at Assembly, but before I talk about those on my list, I wanted to give you a brief overview of a day in the life at Assembly.
DAILY ROUTINE
Each day followed roughly the same structure.
Assembly proper commenced at 9.00am with devotions and bible study.  (there was opportunity to worship in the nearby Anglican church at 8.00 am ).
9.00 am worship, was lead by a different synod each day and bible studies were lead by Rev Dr Seforosa Carroll and Rev James Bhagwan.  These wonderful speakers sat at the front of assembly on a traditional Polynesian mat and each day referred our thoughts back to various items which were placed in the centre of our discussion tables.  Collections of stones, individually painted indigenous crosses etc.
At 10 am we went into open session, where reports and proposals were presented and discussions commenced.  Such sessions went through to lunch.   At lunch you had opportunity to talk to various agencies of the church such as frontier services, Uniting world, Uniting Care, defence force chaplains, Uniting Earth etc.
Following lunch open sessions continued through to afternoon tea, when we then went into small groups and discussed, questioned the larger proposals which were placed before us.
Tea followed and then we came back into open session.
The day concluded around 9.00 pm
In this description I must mention the work which was done by the small groups and then the follow up work carried out by the facilitation team. At these small groups we posed questions, sought clarification, expressed views on the proposals before us.  For example in relation to indigenous sovereignty, questions were asked as to what the actual definition of "sovereignty was", how this would affect an actual congregation etc.
The facilitation group would, at the end of each day, collate all these comments etc from the 20 or so small groups, and report back, to the open session the next morning, providing clarification answers or simply showing how many groups had similar feelings or views on that particular matter.  I cannot over state the great work that this team did and how it did assist in shaping how either the proposals may be reworded or at least viewed in light of their finding.  I found this work very helpful which I must admit was in stark contrast to synod where although the same system was used, there appeared little evidence that small group discussions found their way into meaningful changes or revisiting of proposals.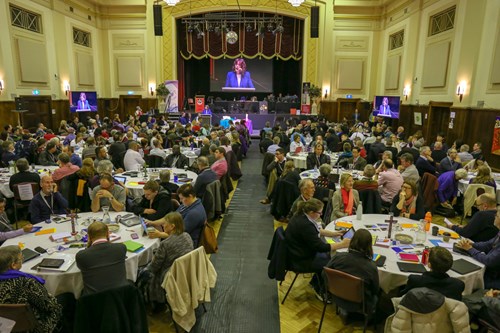 REVIEW OF PROPOSALS
Whilst the Same sex marriage proposal dominated discussions and the ensuing headlines, it was by no means the only proposal, substantial or otherwise that Assembly grappled with.  As I mentioned earlier there were some 58 proposals listed for discussion when Assembly began.  This number increased to about 64 as the week wore on.
The first of the proposals I wanted to discuss was the one brought to assembly by Uniting Care on Voluntary Assisted Dying.
The proposal read:
"That the Assembly resolve
A) To request Uniting Care Australia to commence a 12 month process of consultation and discussion across the life of the church to discern the Church's approaches to voluntary assisted dying to be presented to the Standing Committee no later than July 2019.
B) To request that the scope of the consultation include theological, ethical, social, pastoral, health, cultural and service aspects of the issue."
Debate that was held on the floor of Assembly in relation to this proposal, centred on two areas, firstly what was the aim of this proposal.
In response to this you will note from this proposal is that it was in no way seeking to place a set position in relation to this matter.   It was simply to consult with the church as a whole and present their findings to Standing Committee. At present no agency or level of the church has a policy position on this matter and with this matter being brought to state governments both now and over the last 12 months, a discussion on this I think is timely, if not overdue.
The second issue raised was whether Uniting Care was the best agency of the church to undertake this discussion.  There was a range of thought, from one end saying that yes they were, as this matter was central to the work uniting care does in their aged care facilities, however the opposing view suggested that for this exact reason, Uniting Care was not be best, impartial body to facilitate this discussion.  Could it be that Uniting would try and position and promote itself within a competitive market place, itself using the findings of this report.
Initially the proposal was deferred and then on the day assigned for it to be voted on, the floor of assembly was informed that the proposal had been withdrawn.  No explanation for this withdrawal was given.  I must admit that this withdrawal saddened me as it is an issue which I think impacts on a larger number of UCA members than same sex marriage does and I fear could become a more divisive issue.
The Second Proposal I want to bring before your attention was from the Royal commission National task Group.
The actual proposal is quite long from this report but in essence if sought five things:
1)  To reaffirm the values statement made at the beginning of the Royal Commission
2) To note the work done in providing equitable, consistent and just redress
3) To work towards a Safe Church unit within the UCA
4) To delegate final responsibility and oversight back to the Assembly Standing Committee
5) To request that Standing Committee with reference to the legal dept makes changes to the Regulations etc and implement practices and policies in response to recommendations of the Royal Commission.
It should be noted that the church had already commenced a redress scheme prior to the national Government one, which the church has signed up to.  There was no discussion as to how this was to be funded and definitely no mention made of the church heading down a similar road as to what has been reported on for the Anglican Church, particularly in Tasmania, where up to 40 % of properties are to be sold.
This proposal was passed by consensus.