It has been an interesting week. In the midst of a crisis not one of us has ever lived through before, a common expression I have either spoken or felt, has been: I do not know! I just don't know.
What a delightful gift we have in this week's gospel reading! Here we have the story of the man who was blind from birth. It is a very grounded story for me. Oh, yes, there is a bit of theological byplay early on, as the disciples seek to tie down just who it was to blame for this man's affliction. We always need someone to blame don't we?
However, not being a noted theologian I am attracted to the very humanness of what follows.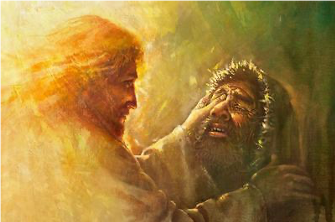 I love the messiness and the theatre of Jesus spitting on the dusty ground and making a mud poultice out of his saliva and the dirt of the town. It gets better! He then daubs it over the man's eyes. The guy is blind and so has no clue as to what is going on beyond his no doubt enhanced senses of smell and hearing. 
'Go and wash in the pool of Siloam', says Jesus. What the heck the man must have thought. After all, he didn't know; but why not go with this weird interlude to his day.
When the man came back seeing, well, it was the talk of the town. 'It is him isn't it?' 'I don't know, is it?' 'Yes it is him … I think.' 'Are you sure it's him?' 'It must be someone like him?'
Meanwhile here is the man saying, 'Yes, it is me!' So he told them what had occurred and of course people wanted to catch up with this healer. 'Where is he?' And the man with his new gift of sight could only say, 'I don't know.'
The religious leaders of the day didn't know. The man's parents didn't know. When the man was brought before the authorities a second time, he still didn't know. In desperation the religious 'experts' announced that the mystery man must be a sinner. The man responded with another I don't know:
'I do not know whether he is a sinner.
One thing I do know, that though I was blind, now I see.' John 9:25
We read that those with the knowledge and the power then reviled the man. And the man delivered a lesson that when he woke that morning he could never have believed possible. It was the formerly blind speaking to the newly blind:
'Here is an astonishing thing! You do not know where he comes from, and yet he opened my eyes. John 9:30
Friends we are in uncharted waters. There are so many things that we just don't know. As we consider our respective ways forward, can I ask that we all remember who we are and whose we are and the call that does not change:
'As long as I am in the world, I am the light of the world.'
Keep shining friends.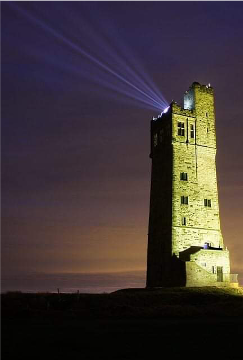 A prayer from A Wee Worship Book:
Gather us or scatter us, O Lord according to your will.
Build us into one church:
a church with open doors and large windows,
a church which takes the world seriously,
ready to work and to suffer,
and even to bleed for it.
And a blessing from the same source:
Lord, set your blessing on us as we begin this day together.
Confirm in us the truth by which we rightly live: 
confront us with the truth from which we wrongly turn.
We ask not for what we want
but for what you know we need,
as we offer this day and ourselves
for you and to you
through Jesus Christ our Saviour. AMEN