Disaster Recovery Chaplaincy: a retrospective
12 Aug 2022 by Rev Claire Wright in: Latest News
It seems a long time ago now – though the fields are still waterlogged, and the insurance claims drag on – but at the initiative of Mid North Coast Presbytery; with support and funding from Synod Disaster Recovery; and with the affirmation of the Manning Valley congregations, I was privileged to offer Disaster Recovery Chaplaincy in the region for four days per week, from August 2021 to March 2022.
I believe I was able to find a meaningful 'niche' for chaplaincy, in the midst of large-scale agency- and grants-based recovery and resilience efforts. The combination of individual visits and encounters, word-of-mouth and other-agency referrals, involvement in recovery/resilience events and development of inter-agency partnerships was sufficient to provide a full schedule of work for one part-time chaplain!
A chaplaincy was well understood and welcomed both by local authorities and agencies and by communities and individuals. Due to a chronic lack of social workers on the ground, I often found myself acting as a de facto case worker for at-need people, connecting them with services, making referrals, advocating, putting together case teams etc. This practical 'on the ground' role was greatly supported by Presbytery's allocation of Synod funding for emergency relief vouchers and other assistance – especially as other public grants and payments came to an end, or proved hard for people to access.
The chaplaincy role therefore developed over time as a mix of: offering emotional/spiritual support to individuals and households; connecting people with financial and practical assistance; referring and advocating for people to helping agencies; offering chaplaincy services at community gatherings and events; and providing recovery education to communities and groups.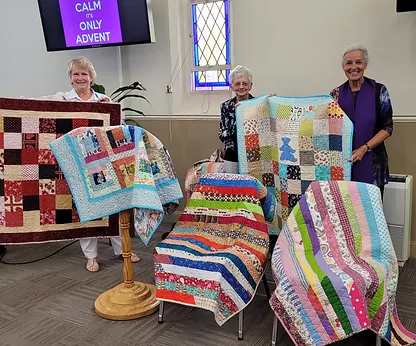 Black Head Quilters make a beautiful donation
Disasters always bring out other 'brokenness' in affected communities, especially among vulnerable populations, and I found myself increasingly confronting issues of domestic violence, substance abuse, mental health, financial hardship and long-term homelessness/displacement. It was particularly heart-warming to be able to form an inter-agency case team to offer intensive support to a sizeable homeless community in the Coopernook State Forest, with several positive outcomes – and attracting interest from other local council areas, as a possible model for accessing hard-to-reach communities.
I am very grateful to have been able to draw on Presbytery's allocation of Synod disaster funding – as well as generous donations of vouchers and goods from Uniting Churches and beyond – for the support of flood-affected clients. This enabled me to offer practical 'helps' with food and fuel vouchers; advanced rental bonds; payment of vet, phone and medical bills; advanced rent on storage units; vehicle repair costs; tarpaulins and tents. I was also able to help people access grants and other monetary support (including financial counselling, successful GIVIT campaigns and 'buddying' with donors), and to refer them to agencies for support services – as well as offering practical assistance myself, where appropriate. A huge thank you, again, to clean-up crews, donors, helpers and pray-ers from Uniting Church congregations including Manning, Wingham, Laurieton, Gloucester and Forster-Tuncurry. Coopernook UC (Op Shop) even got a commendation in NSW Parliament for its work during and following the floods: so proud of them! Warmest thanks to Presbytery and all who supported the ministry – even while dealing with the aftermath of flood emergencies themselves.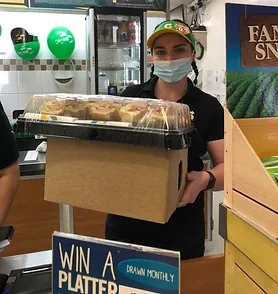 Sub - sidised food
So where next? The chaplaincy role has ended, but I maintain pastoral contact with some 40 households encountered in the immediate post-flood period. I am also a member of the Mid Coast Disaster Recovery Collaboration Group, which has moved on to resilience initiatives, including community disaster planning. I also feel that a fairly well understood 'community chaplaincy' role has developed in our area, at the invitation of the community itself: seeds have been sown for a number of faith-based programmes, which I hope to explore in the year ahead as part of my 'regular' role as ministry development minister.
My time in chaplaincy was energising (as well as exhausting) and hope-filled. I am very grateful to Presbytery – as well as Synod and 'my' congregations – for the opportunity, and for the support and assistance given. Thank you.
Rev. Claire Wright, Manning Valley Project, 12 August 2022