February 2020 Presbytery meeting
15 Feb 2020 by Stephen Nicholson in: Latest News
Representatives from congregations met on 15 February at Port Macquarie for worship, teaching, discussions, receiving reports and making decisions.  That may sound dull, but it was anything but!
Uniting Mission and Education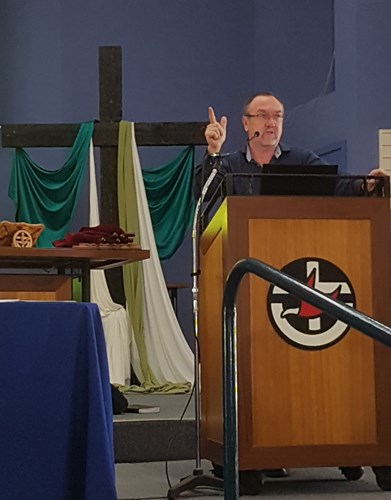 Glen Powell and Raymond Joso from UME talked about the role and direction of UME, and how they can help us. Of particular note:
Mission in the 21st century

Encompasses fellowship, Spirit of Christ, worship, witness and service

Has these characteristics:

Gospel centred

Visible and attention grabbing

Relevant and contemporary

Welcoming

Inclusive

Disciple communities

coming activities include:

a challenge of ageing and declining yet resource rich congregations – nothing to lose in embracing change

while around 25% of the population are actively religious and spiritual, another 25% are inactive religious and spiritual – with them the task is to motivate them to get involved in something worthwhile. What about us attracts involvement?

Following the Royal Commission into Institutional Responses to Child Sexual Abuse the community has lost trust in Christianity

For the Uniting Church there are opportunities:

Communication - Despite the media's reluctance to provide positive stories about Churches, the Uniting Church has been receiving positive press.

Advocacy – community organising makes the UCA look young, fun and relevant (though do our congregations reflect that?)

Get notice by people who care – such as display banners available from Synod -

https://nswact.uca.org.au/communications/communications-services/vinyl-banners/

Willing disciples – eg invite friends and neighbours to music, food and issues-based events

Ensure that worship is appealing to newcomers testing whether to keep coming.
Presbytery Strategic Plan
Rev John Thornton, Presbytery Chairperson, reported on progress on the Strategic Plan, which proposes ministry teams serving five ministry zones with a major centre as the core.  Implementation will need strong ownership of congregations within the respective cores and presbytery representatives were reminded of their responsibility in reporting back to their congregations.
At the end of 2018 there were three ministry agents within 3 clusters.  By Easter 2020 there will be eight ministry agents across our five clusters.  This is very encouraging progress, with further steps requiring more discussions and growing ownership from congregations within each cluster.
Table discussions
Presbytery Pastoral Relations Minister
The November 2019 Presbytery Meeting approved creation of this position, to focus on Strategic Plan implementation, on governance needs, and to assist the PRC with their enormous workload.
This meeting was advised that the Joint Nominating Committee and the Pastoral Relations Committee recommended the appointment of Rev Cherie Strudwick.  Presbytery unanimously supported that recommendation.
Stay tuned for details of the date for her induction service.
Presbytery Retreat – Communities of Hope
A time of connection, reflection and renewal
17-19 September 2020 at Stuarts Point
All members of the Uniting Church in the Mid North Coast Presbytery are encouraged to attend.
Ministers of the Word, Pastors, Lay Preachers, Lay Presiders, Worship Leaders, Elders, Church Councillors and Presbytery representatives are strongly encouraged to attend.
There will be time to connect and share in groups and also time for individual reflection.
Registration forms will be available by the end of June.
Other business
Eleven reports and the correspondence list were received.
Approval was given to the appointment of four new board members to LifeLine North Coast and LifeLine Mid Coast.