Lofa inducted as Tertiary Chaplain at Port Macquarie
29 Feb 2020 by Stephen Nicholson in: Latest News
On 29 February 2020 the Rev Tau'alofa (Lofa) Anga'aelangi was inducted as the inaugural Tertiary Chaplain in Port Macquarie, in association with Port Macquarie Uniting Church.
Lofa came from Tonga to Australia as a 9 year, and is looking forward to engaging with tertiary students in Port Macquarie, particularly at Charles Sturt University.
Her induction into the role was led by Rev John Thornton, Presbytery Chairperson, and the message at the induction was delivered by Rev Simon Hansford, Moderator of the Synod of New South Wales and the Australian Capital Territory.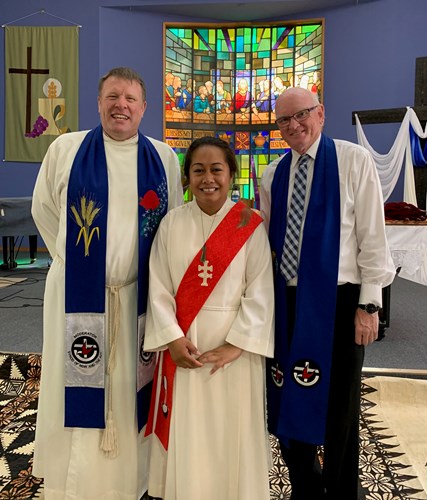 Rev Simon Hansford, Rev Lofa Anga'aelangi and Rev John Thornton