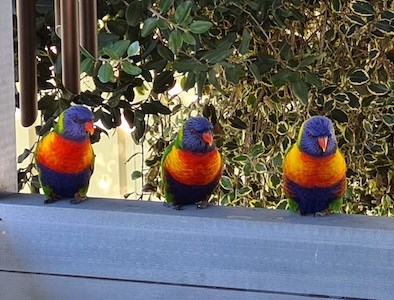 My nature shot this week is of three Lorikeets trying to keep social distance on our back deck recently.
How are you doing with this new reality that we are living in right now? The plus I find is that it really isn't particularly hard to build any kind of excitement level these days. On Wednesday morning I had the stupendous thrill of an appointment with my Skin Cancer specialist, while Veronica took the opportunity of going to the Post Office! Such a joy! You feel as if you are doing something that is not quite right as you sneak out of your driveway.
While out and about – well hardly about – as an added bonus I found reason to have a good whinge also. Have you noticed the price of petrol lately? How exciting to see the price plunging lower and you have a full tank and no likelihood of that changing anytime soon.
The work goes on. This week started for me with three consecutive Zoom conferences. Mid North Coast Presbytery Standing Committee Monday for a few hours and then in the afternoon a planning meeting in preparation for a Placements Committee the following day. The full meeting on Tuesday began at 10.00am and finished after 2.00! With 22 people in the virtual room, this was a real challenge for the Chairperson. OH, that's right, it was me!
Our Presbytery Standing Committee meetings are usually a mixture of business and fun and Monday's gathering was no exception. I have always found that it is best to mix in a level of informality and byplay into gatherings and this committee is a good example of this. We together addressed a whole bunch of business in the light of our changed circumstances and will be doing our best to keep you informed and up to date with all that is going on.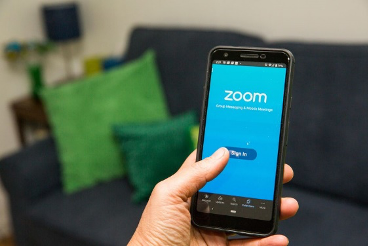 I am looking forward to our May presbytery meeting which the Standing Committee strongly affirmed should meet as scheduled, though in a different form to usual. You can attend in your PJ's if you like!? Please do not be afraid of the Zoom audio-conference deal. It really is just a matter of getting past the first one and then you are fine. Look, I can do it. It must be okay.
A creative spirit in the midst of adversity. COVID-19 has impacted us all; but I am enjoying seeing the way many people are adapting to their situation and bringing a little joy to others at the same time. Today I enjoyed hearing from a Norwegian Orchestra all playing their various instruments from their own homes, but all playing together. It was brilliant.
On the home church front I remain encouraged by the positive vibes I keep receiving from some of the people who are a part of our many and varied congregations. From north to south and inland to the east we seem to be doing okay in these uncharted waters. Whether we are using Online Church, Virtual Email Church, Devotional notes (soft copy or hard) or whatever else, we are all hopefully finding new ways of being church. Ways that hopefully might be encouraging for now and full of hope for the future.
At the same time I am aware that many are grieving the loss of our being free to meet together for worship. There is no magic wand unfortunately, but we will see this through.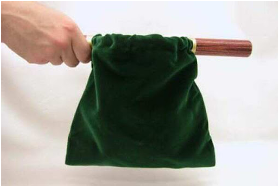 MONEY – Like it or not we live in a world where bills continue to need to be paid and many of our plans for the future will inevitably rely on having sufficient funds to resource a positive way forward.
Can I encourage you to continue to bring your regular offering for the work of the church, as it is clearly still working and through this time and beyond. Our Presbyytery Treasurer Marie Battle offers this encouragement:
Freewill Offering – Although you may not be meeting as a congregation for the short term, the Church has to keep running, which means accounts, wages etc have to be paid.  So, here are two (2) ideas of how to keep up with your freewill offerings:
Funds can be deposited directly into your congregation's bank account (either as a one off payment or as a regular direct debit). So contact your congregation's Treasurer to get the following details so that you can continue to support your church and the work of God locally and in the world:
BSB No.:                    
Account No.:                       
Acc't Name:                                               
If you do a direct deposit it is suggested you put the word "Offering" in the reference field.
If you would like to continue using cash (eg weekly freewill offering envelopes) contact your congregation's Treasurer so you can arrange to either have your offerings collected or dropped off to allow them to be banked.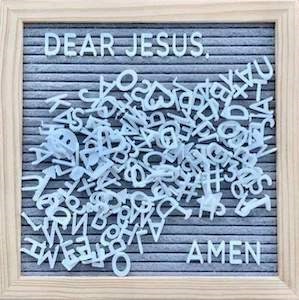 PRAYER: I don't know about you, but sometimes my prayers feel a little bit like the image here. Despite this, can I encourage us all to be even more a people of prayer in these worrying times. Perhaps being 'stuck at home' is a pefect opportunity to build an even stronger base of prayer for God's work in the world?
Pray for your local congregation leaders. When you go for a walk pray for your neighbours as you go. Pray for your community, particularly for those in health care at this time. Just pray!
'We know that the whole creation has been groaning in labor pains until now; and not only the creation, but we ourselves, who have the first fruits of the Spirit, groan inwardly while we wait for adoption, the redemption of our bodies.  For in hope we were saved. Now hope that is seen is not hope. For who hopes for what is seen?  But if we hope for what we do not see, we wait for it with patience.
Likewise the Spirit helps us in our weakness; for we do not know how to pray as we ought, but that very Spirit intercedes with sighs too deep for words.  And God, who searches the heart, knows what is the mind of the Spirit, because the Spirit intercedes for the saints according to the will of God.' Romans 8:22-27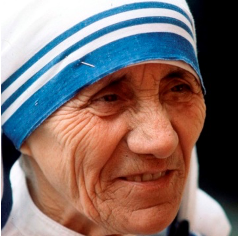 'I ran away and stayed away. Mother Teresa moved in and stayed. That was the difference, She, a nun, rather slightly built, with a few rupees in her pocket; not particularly clever, or particularly gifted in the arts of persuasion. Just with this Christian love shining about her; in her heart and on her lips. Just prepared to follow her Lord, and in accordance with his instructions regard every derelict left to die in the streets as him; to hear in the cry of every abandoned child; to recognize in every leper's stumps the hands which once touched sightless eyes and made them see, rested on distracted heads and made them calm, brough back health to sick flesh and twisted limbs. As for my expatiations on Bengal's wretched social conditions – I regret to say that I doubt whether, in any divine accounting, they will equal one single quizzical half smile bestowed by Mother Teresa on a street urchin who happened to catch her eye.'
Malcolm Muggeridge from Something Beautiful For God.
3rd Sunday of Easter
If you invoke as Father the one who judges all people impartially according to their deeds, live in reverent fear during the time of your exile. You know that you were ransomed from the futile ways inherited from your ancestors, not with perishable things like silver or gold, but with the precious blood of Christ, like that of a lamb without defect or blemish. He was destined before the foundation of the world, but was revealed at the end of the ages for your sake. Through him you have come to trust in God, who raised him from the dead and gave him glory, so that your faith and hope are set on God.
Now that you have purified your souls by your obedience to the truth so that you have genuine mutual love, love one another deeply from the heart. You have been born anew, not of perishable but of imperishable seed, through the living and enduring word of God. 1 Peter 1:17-23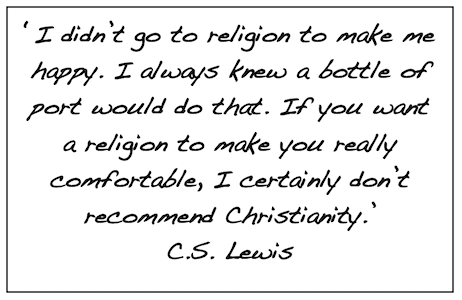 I offer the highlighted portion of Peter's letter to you this week. Against the odds, I am still a member of the club that belives that the church is the hope of the world. In this time of testing, what can we offer a world that is fearful, confused and looking for someone to blame?
Can we be an agent of change and hope and love and grace?
Grace and Peace – John T