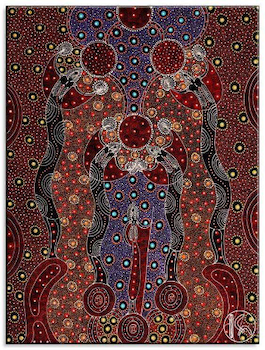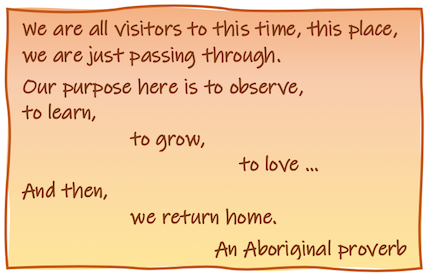 WELCOME
We welcome Rev Claire Wright to the Mid North Coast.  Claire will take up the new role of Ministry Development Minister to the Manning Valley Churches and, just as importantly, the communities of the Manning region.
Claire takes up this position after three exciting years serving with Bathurst Uniting Church in the Macquarie Darling Presbytery.
The MNC Presbytery Strategic Plan is to establish five core centres through which we aim to strengthen ministry in the particular regional city, and by doing this better serve and resource the region around our centres.
The Manning Churches project has been a work in progress for a few years and it is our first real opportunity to explore new and innovative ways of community connections and what Fresh Expressions of church might emerge.  There is a level of excitement and anticipation about what we will see going forward as none of us really knows what lies ahead.
What is hugely exciting is the willingness of the Wingham, Chatham, Lower Manning and Manning Uniting Churches to come together and have a go!  We watch with great hope for the future and wish Claire and the leadership well.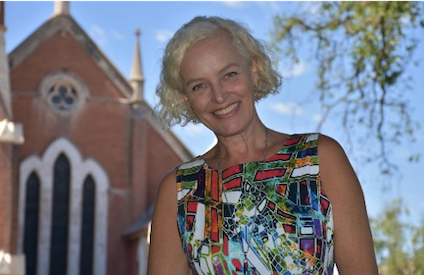 WIDER COLLABORATION
A key part of the Manning plan is to continue to grow strong partnerships with other UCA agencies and local Not For Profit groups.  We have worked closely with Wesley Mission in recent years and have a good connection with Parramatta Missions work locally, as well as UNITING.  Sadly we had to say goodbye to the Wesley Mission Chaplain Cathy Barker, who has decided not to continue her work with the mission.  So we wait with anticipation to see what new things may develop.  Cathy hit the ground running and made some excellent connections with several of our people during this COVID-19 crisis and she will be missed.  We wish her well for the future.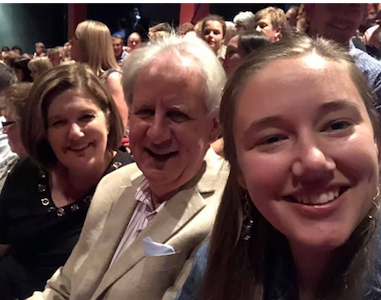 THANKS
Pastor David Freeman has decided to retire from his ministry with the Lower Manning Congregations this month.  David has been a great servant to the whole presbytery for many years but will be particularly missed in the southern area.  Missed??  Well, in reality we will still see quite a bit of David as he continues many of his preaching responsibilities amongst us.
We thank David for his ministry among us as a past Chair of Presbytery and Pastor among us and wish him and the Freeman family all the very best for a hopefully somewhat slower future.  It is planned to recognise David's ministry with a Closure of Ministry service toward the end of the year.
NATURE WALK
I know how much you look forward to Rev John's nature stuff each week!!??  Neither Veronica nor I are particularly renowned for our green fingers, but we are enjoying experimenting and trying to make a nice garden out of something that was a disaster when we moved in.  So don't visit expecting something out of House and Garden Magazine!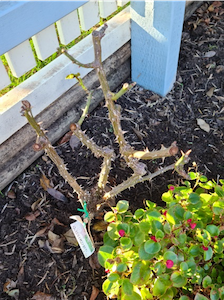 This week I offer you a stunted rose bush.  Yes my friends it is pruning season, and I am not necessarily talking about the garden.
As a number of us now have moved back into our worship spaces or are planning to do so in the near future, my hope is that we are more conscious of why and what we are about as a worshiping community.
It has been a trying six or nine months.  While much of our state remains in drought, we seem to be through that challenge.  The disastrous bush fires have left scars that are seen not just in our landscapes.  Then of course COVID-19 struck and this is something that we will be living with for some time.
The rose bush pictured had a good season, but its appearance right now gives us no clue as to what was or what might be.  Nature needs to take its course.
I am reading a book at the moment that considers what church might look like moving forward.  One thing seems sure, for the church of the future to flourish, it cannot look like the church of the past.  Jesus Christ is the same yesterday, today and tomorrow, but his living church is always changing.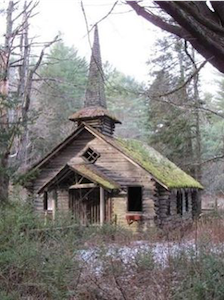 UK Anglican researcher George Lings, in a book he wrote over twenty years ago used words that will disturb some, but I think he may be right:
'Church is what some others do.  It is noticed sadly, in their terms, not only as an alien and expensive building that I wouldn't know what to do in, worse, it is occupied by people I wouldn't be seen dead with.' George Lings – Living Proof – a new way of being church? - 1999
It might be expressing thoughts on the church in the UK, but …
Some of us may have gone through a pruning these past months, or perhaps we are looking at our church gatherings with different eyes today, and might be wondering if we need some ecclesiastical secateurs.
PENTECOST 5
Readings: Genesis 24:34-58, 42-49 & 58-67, Psalm 45:10-17 or Song of Songs 2:8-13, Romans 7:15-25a and Matthew 11:15-19 & 25-30
For I do not do the good I want, but the evil I do not want is what I do. Romans 7:19
The Romans reading is one that risks getting you tongue-tied as Paul lays bare his deep personal conflict.  Of course, it ends with the author almost offering a great sigh of relief as he says: Thanks be to God through Jesus Christ our Lord!
I get a regular dose of one of my favourite authors via email.  I am taking the easy way out as I close this week, by sharing the thoughts of Frederick Buechner from his work of semi-fiction, Godric.
Godric is a 12th century English holy man whose projects late in life included that of purifying his moral ambition of pride:
Remember Me Not For the Ill I've Done
'OH LORD, The coolness of the river's touch!  The way it mirrored back the clouds as if I bathed in sky.  I waded out to where the water reached my neck, my beard outspread, my garments floating free.  I let my hands bob up like corks.  At sixteen stone or more, I felt I had, myself, no weight at all.  The soul, set free from flesh at last, must know such peace. 
And oh, the heart, the heart!  In Jordan to my chin, I knew not if I laughed or wept but only that the untold weight of sin upon my heart was gone.  I ducked my head beneath, and in the dark I thought I heard that porpoise voice again that spoke to me the day I nearly drowned in Wash.  "Take, eat me, Godric, to thy soul's delight. Hold fast to him who gave his life for thee and thine."  When I came up again, I cried like one gone daft for joy.
"Be fools for Christ," said the Apostle Paul, and thus I was thy bearded Saxon fool and clown for sure.  Nothing I ever knew before and nothing I have ever come to know from then till now can match the holy mirth and madness of that time.  Many's the sin I've clipped to since.  Many's the dark and savage night of doubt.  Many's the prayer I haven't prayed, the friend I've hurt, the kindness left undone.  But this I know.  The Godric that waded out of Jordan soaked and dripping wet that day was not the Godric  that went wading in.
O Thou that asketh much of him to whom thou  givest  much, have mercy.  Remember me not for the ill I've done but for the good I've dreamed.  Help me to be not just the old and foolish one thou  seest  now but once again a fool for thee.  Help me to pray.  Help me whatever way thou  canst, dear Christ and Lord.  Amen.'