Australia Day Awards
Have you caught up with the Australia Day awards?  There are connections to local Uniting Churches!
Phil Crofts was given an OAM "For service to the community of Coffs Harbour".  He has coordinated the Coffs Harbour Uniting Church's Soup Kitchen for many years – this provides nutritious lunches for many needy people in the local community. Some more photos (none with Phil!) can be seen on About - Coffs Harbour Uniting Church.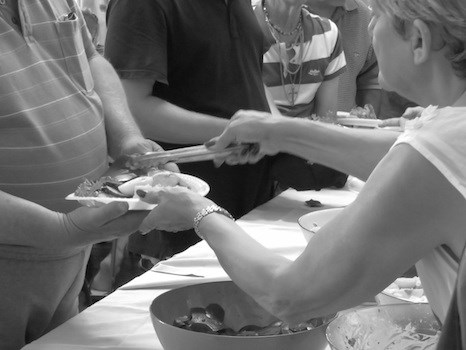 Norma Cowper of Port Macquarie was also given an OAM "For service to the community through a range of roles".  These cover many community roles in Sydney and for the past 30 years in Port Macquarie.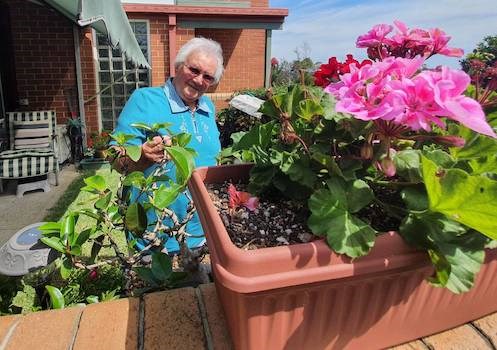 The Senior Australian of the Year, Miriam-Rose Ungunmerr-Baumann AM, also has a local connection.  She is highly regarded as an Aboriginal educator as well as activist and artist.  John Archer, husband of our Presbytery Chairperson, met her during one of his times working at an Aboriginal boarding school at Daly River in the Northern Territory.  John was impressed with Miriam-Rose' remakable intellect, her wisdom, and notes she is both firm and gentle.  She is held in great respect in her community.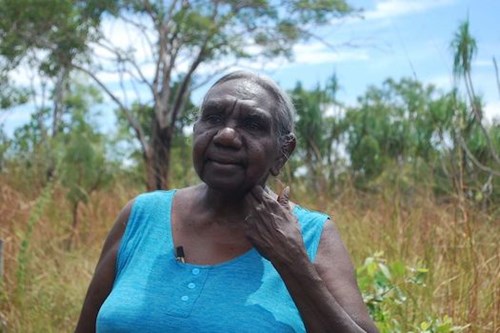 Photo by Eleni Roussos, ABC News
 There are differing views about a national celebration on the anniversary of the First Fleet arriving in Port Jackson in 1788.  The comment that affected me most this year was in an article by a historian, Henry Reynolds:
At the end of February 1788, five men were convicted of theft and condemned to death, illustrating that property was more sacrosanct than life itself.  …  Just three weeks before, half a continent had been declared Crown land in one of the most remarkable acts of plunder in modern times.
(Full article: Australia Day 2021: The truth about January 26)
There is always the temptation for the powerful to be blind to their inconsistencies and hypocrisies.  We read in the Gospels of Jesus proclaiming good news for the poor and freedom for the prisoners, focussing on affirming the worth of those on the fringes of society, and criticising the arrogance of those in charge.  The protests about Australia Day are a symbol of the need for deeper truth and reconciliation over colonisation of Australia.
Presbytery Meeting
The first meeting of the year will be in-person at Port Macquarie Uniting Church on Saturday 20 February, and will include communion and commissioning of Presbytery leaders.  The meeting will also hear from one of the top Synod leaders.  Observers are welcome.  While numbers are unlikely to be a concern, it is necessary to register in advance to avoid having to turn anyone away at the door.  To register contact Stephen Nicholson – phone 0439 818 622 or email snicho@icloud.com.
Closure of Ministries
On Sunday 17 January a closure of ministry service was held for Rev Myung Hwa Park's settlement at Sawtell and Coffs Harbour.  Myung Hwa is moving to a part-time position at Leura.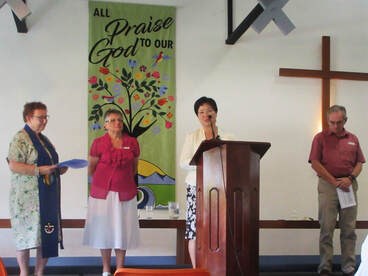 On Sunday 7 March a closure of ministry service will be held at 10:30am at Lansdowne Uniting Church for Pastor David Freeman, who has served the Lower Manning congregations for 11 years.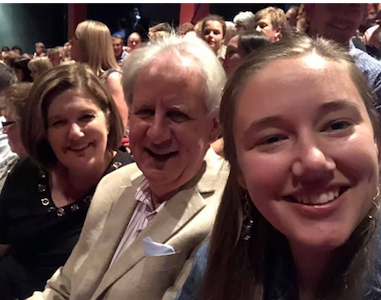 These closures provide an opportunity to further explore sharing of Resource Ministers within local districts as proposed in the Presbytery Strategy.

Synod 2021
Given that it would be problematic to hold an in-person Synod meeting this year, last year it was decided to hold this Synod in a virtual on-line format.  This brings a range of challenges and opportunities, including:
facilitating UCA members across the State being able to be on-line observers
splitting up the meeting to shorter sessions of worship, discussion and decision-making running from February to August (plus a final worship session at the end of the liturgical calendar)
the discussion and decision-making sessions being on Wednesday evenings (6-9:30pm) and Saturdays (9am-1pm).
Aptly Synod 2021 will explore where the wild God is, a God that is active in the turbulent world in which we live right now.  You can find out more about this (including the program of meetings) on the UCA - Synod 2021 - Where the wild God is website. Nearly
Though arrangements are still being finalised (including times), you are encouraged to participate in the live-streamed Synod-wide worship on:
Ash Wednesday, 17 February 2021 - Into the Wilderness
Palm Sunday, 28 March 2021 - Obedience in the Wilderness
Day of Pentecost, Sunday 23 May 2021 - The Possibilities of the Wilderness
Sunday 8 August 2021 - Changed in the Wilderness
Christ the King Sunday, 21 November 2021 - Home in the Wilderness
At the time of writing details for accessing the worship on 17 February weren't known – keep checking the website!
Wilderness
Wilderness triggers interesting images.  What does it mean for you?  Is it unfamiliar and scary?  Is it a place of escape and restoration?
One image for me is of deserts, where you need to be prepared with knowledge and resources for survival.  Another image for me is of inland landscapes, of rocky hills behind pasture land.  (Yes I know, even up on such hills it's hardly wilderness!)  I've always lived in coastal urban areas, though growing up I did go on holidays into inland NSW.  I got a surprise on a holiday in 2019 when driving along the Hume Highway in Victoria  and seeing that landscape again and feeling a deep sense of connection with it.  I didn't take a photo, as it seemed a photo couldn't do it justice.
Whatever the meaning, there can be value in us each experiencing wilderness, and in how it can help us grow.  As Jesus modelled, it can be a time for reflection on what is important – your priorities and strategies.  Time away from everyday distractions is valuable.
Aim to be part of the online Synod worship sessions exploring wilderness!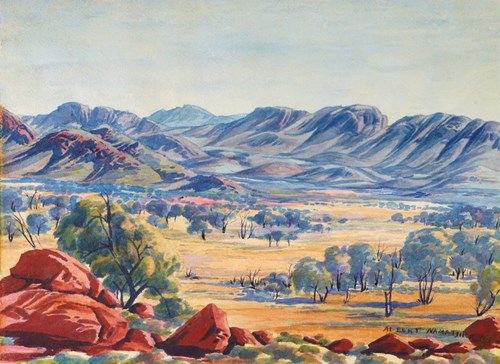 North ranges looking south, by Albert Namatjira
Stephen Nicholson
Deputy Presbytery Chairperson