Hi Everyone,
This is the ninth of our 'monthly' emails for 2020 to our Social Justice Email Contact List which we are now calling Peace and Justice Monthly Newsletter.   For all kinds of reasons, we haven't quite been able to make this a 'monthly' newsletter in recent months.   However, it's better late than never!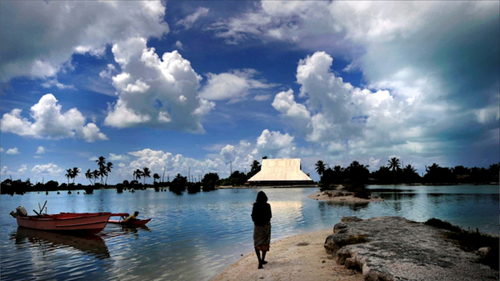 Kiribati - villages now use the ferry to cross from one part of the village to another at high tide. Photo: Justin McManus
Climate Justice – The latest from the UCA Assembly
Pacific Church leaders have joined national leaders in writing to the Australian Prime Minister asking him to act on climate change.  (You can write too!)
To The Hon Scott Morrison MP,
Prime Minister of Australia
Dear Prime Minister,
We write to you as Pacific Islander leaders whose homelands and cultures face certain devastation from climate change.
In the 2018 Boe Declaration on Regional Security, all Pacific Island Forum (PIF) members, including Australia, identified climate change as the region's single greatest security threat.
Pacific island nations have long been leaders in driving global progress to combat climate change. 
However, Australia's current Paris Agreement emission reduction target remains one of the weakest amongst wealthy nations.
In anticipation of the United Nations Climate Ambition Summit on 12 December 2020 and the next PIF Leaders meeting we call on your government to honour its international climate commitments and take urgent climate action by:
Committing to net zero emissions by 2050 and developing a long term low greenhouse gas emissions strategy by 2021
Cancelling Australia's leftover Kyoto Protocol credits, which legally cannot, and morally should not, be used to meet Australia's 2030 Paris Agreement target
Doubling Australia's current Nationally Determined Contribution in line with the 2014 advice of your independent Climate Change Authority
Maximising the opportunities associated with the COVID-19 recovery package to boost the renewable energy sector and low emissions transport sector
Providing new and additional funds beyond the current aid budget to finance climate mitigation and adaptation under the Paris Agreement, including contributing to the Green Climate Fund.
Australia needs the Pacific as much as the Pacific needs Australia.
As our children and grandchildren face unprecedented risks due to climate change, now is the time to stand together and work together to secure their future safety and prosperity.
Yours Sincerely,
Hon Willy Telavi, Former Prime Minister of Tuvalu
plus 18 other Pacific government, former government and Church leaders and organisations.  Note that there are finally signs that the Prime Minister is likely to act on the second dot point on cancelling Australia's leftover Kyoto Protocol credits.  Pressure from our Pacific neighbours to do this has no doubt played a key role in this. 
For more information on this, the full list of Pacific leaders and other social justice issues our UCA Assembly is taking action on, go to https://mailchi.mp/nat/2020week44?e=1865a74554 and scroll down.
Climate Justice – Uniting Social Justice Forum – E-News
This post comes from The Guardian via our UC Social Justice Forum on 1 December 2020
Listen to Jan Fran express her puzzlement at why Australia still does not have a climate policy (despite almost everyone else having one).  Informative and funny but with a serious message to our leaders.
More than 70 countries have signed up to net-zero emissions by 2050.  But not us! In the latest episode of The Frant for Guardian Australia, Jan Fran explains how we're still playing politics with climate change
Some people may feel annoyed by this video.   However our Social Justice Forum obviously thought it was a good way to get this message across.
JESUS CARES HOW YOU TREAT PEOPLE
Aboriginal Deaths in Custody – Common Grace
Common Grace has put together these resources for you to learn, grieve, pray and act.  #StopAboriginalDeathsInCustody
There have been over 540 Aboriginal Deaths in Custody since 1980 - over 440 of these since the Royal Commission into Aboriginal Deaths in Custody released their report in 1991.  This grieves the heart of God.
It is important that we learn the names and stories, we lament together, we pray without ceasing and we act to see change. 
Learn
Learn the names and stories - Deaths Inside: The Guardian
Blog post by Brooke Prentis - Aboriginal Deaths in Custody
Blog post by Brooke Prentis - Aboriginal Death in Custody: Tanya Day
Brooke Prentis quoted in Eternity article: 'Urgent Call to End Aboriginal deaths in Custody'
Nation Reconciliation Week 2020 reflection by Aunty Ravina Waldren - Walking Together with Solidarity
National Reconciliation Week 2019 reflection by Mariela Powell Thomas - Reconciliation as Truth and Action Stolen Lives
Learn more about The Royal Commission into Aboriginal Deaths in Custody
Blog post by Graham Stanton - 'Truth-Bearing' 
You can get more information by going to https://www.commongrace.org.au/
Common Grace – Daily Devotions - December 1 – 25, 2020
About this Advent series
As the end of this year nears, many shared elements can be found between 2020 and Advent: weariness; pain; uncertainty about the future; systemic injustice; needless deaths and suffering.
Into this picture of exhaustion and fear comes Jesus.  The Messiah who comes to us in the most unlikely, unexpected form.  The God who did not forget his people or ignore their cries.  Jesus did not deny our pain or magically fix it, instead, he entered into it wholly bringing healing and salvation.
This year's Common Grace Advent series reflects on both parts of the Advent story: the lament and the hope we share.
It is only through acknowledging the fullness of lament that we truly hear the voices of the marginalised and are called to respond.  Sitting in lament acknowledges the existence of pain.  We become present to the here and now, to the stirrings and teaching of the Spirit.  Sitting in lament brings a deep and clear focus on salvation and hope in Jesus. 
It's not too late to sign up to get this series of daily email devotionals from now  through until 25 December.   You can sign up by going to:
https://www.commongrace.org.au/
Events for your diary
Monday, 25 January 2021 at 7:30 pm
#ChangeTheHeart – Common Grace
You are invited by one of our most senior Aboriginal Christian Leaders, Aunty Jean Phillips, to gather together to pray in unison to #ChangeTheHeart on the evening before January 26. 
Tune in to this unique, national service led by Aboriginal Christian Leaders simulcast on television, online, and on radio. 
 How to participate in #ChangeTheHeart
Sign up now to receive updates and an order of service booklet.

Tune in and participate in the service at 7:30 pm AEDT Monday, 25 January 2021.

Simulcast on ACCTV, commongrace.org.au, and on radio (networks to be announced).

Get equipped to walk and work together in friendship with follow-up resources and seminars delivered in February 2021
Short reflection by Jeff Kite
Upon handing over the reins as 'Social Justice Contact Person' to Rev Tau'alofa Anga'aelangi
It was wonderful when Rev Lofa joined our Presbytery as Tertiary Chaplain    attached to the Port Macquarie UC.   It was even more wonderful when I realised that Rev Lofa is absolutely passionate about social justice issues.  So after her very first Presbytery meeting in MNC we invited her along to our Peace and Justice Group (PJG) meeting.   
Rev Lofa's role as Chaplain at Charles Sturt Uni has been somewhat difficult due to the Corona virus, but she has kept herself very busy in all kinds of ways including providing support for overseas students who were struggling with little income.  She has also been very involved in the Black Lives Matter movement among other things.
In the January 2020 Insights Magazine, Rev Lofa was quoted as saying:
"I always felt a strong call to the community at the margins or the places where you hear people stories of struggle, issues of inequality, and social justice."

"And of course others may have a different approach regarding social justice.  However, I strongly believe that the servanthood of Christ and teachings is more than enough to bring about change in the status quo of a society."
During the year, it has become more and more clear to me, that Rev Lofa is the obvious person to be our Presbytery justice coordinator.
As Rev Janet Dawson stated in a strategy document last year:
"Justice ministry is patchy in MNC Presbytery, with some congregations intentionally engaged and others seemingly unaware of this aspect of being a disciple of Jesus.  It would seem, therefore, that the Justice Committee needs to both raise awareness of justice issues and provide easily usable ideas and resources for congregations and individuals.   There is also a need to set priorities."
Since I became the contact person in November 2018, we have moved slowly but steadily and have gone some of the way towards addressing the issues raised by Rev Janet.   However, there is still plenty of work to be done.
The Justice Committee mentioned by Janet was not meeting regularly when I became involved.   We have now re-constituted this committee as the Peace and Justice Group and have a great bunch of people on the Group.   
This is the ninth Peace and Justice Newsletter for 2020.  While it's not really clear how many people read and take action as a result of reading this newsletter, I have certainly been encouraged by the feedback that I have received from those who have read it and particularly members of the PJG.
So I hand the batten onto Rev Lofa, not because my commitment to the importance to social justice is in any way diminished, but I am excited by the prospect of working closely with her and the rest of the Peace and Justice Group in the years ahead.
Justice Dates for 2020/21
Below is a list of significant social justice celebration/commemoration dates for the next 3 months.  The websites shown are just one of many sites you may find information on by googling the name given.  These dates can be kept in mind when you're looking for themes for worship services and/or possible special events.   Maybe even just a 2-minute 'justice report' of them occasionally by the Preacher, Peace and Justice representative or Presbytery representative and/or a mention in intercessory prayers or separate prayers could be the way to go.   
There is a slightly less detailed list of social justice dates for the whole year on the MNC Presbytery Website at:
 https://midnorthcoast.uca.org.au/2020-21-events/
December 2020
Thursday 10th – International Human Rights Day
https://www.un.org/en/observances/human-rights-day
Monday 21st – Native Title passed by the Senate (1993)
https://en.wikipedia.org/wiki/Native_title_in_Australia
Wednesday 23rd – Wik Decision (Native Title – 1996)
https://en.wikipedia.org/wiki/Wik_Peoples_v_Queensland
January 2021
Tuesday 26th – Australia Day/Survival Day
https://australianstogether.org.au/churches/ 
February 2021
Monday 1st to Sunday 7th – World Interfaith Harmony Week
https://worldinterfaithharmonyweek.com/
Monday 8th – World Day of Prayer, Reflection and Action Against Human Trafficking
https://acrath.org.au/take-action/world-day-of-prayer/
Saturday 13th – National Apology Day Anniversary of the National Apology to the Stolen Generations (2008)
https://australianstogether.org.au/discover/australian-history/stolen-generations/
Saturday 20th – UN World Day of Social Justice
https://www.un.org/en/observances/social-justice-day
March 2021
Monday 8th – International Women's Day (Events Friday 5th in 2021)
https://unwomen.org.au/get-involved/international-womens-day/