Presbytery Inductions with Moderator
18 Nov 2020 by Stephen Nicholson in: Latest News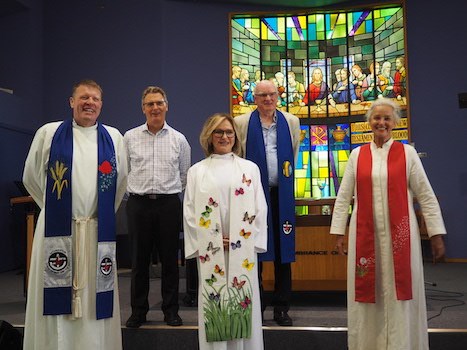 On Saturday 14 November it was a special occasion when the Mid North Coast Presbytery met in person at Port Macquarie.
It was the first time Presbytery in person since February, though it was subject to COVID-Safe requirements.  This included live-streaming the meeting, with parts being recorded, and being made available in the Church Online Mid North Coast - YouTube channel.
Most special were the presence of the Moderator, Rev Simon Hansford, for three previously deferred inductions:
Rev Cherie Strudwick as Presbytery Pastoral Relations Minister
Rev Claire Wright as Ministry Development Minister for the Manning Valley community
Rev Steve Larkin as Minister at Port Macquarie.
The meeting was the Annual General Meeting, and received a range of reports for different aspects of the life of the Presbytery, and conducted elections for positions on the Presbytery Standing Committee and the Pastoral Relations Committee.  Prior to this the Moderator addressed the meeting over the wider picture of the church.
The new Chairperson of Presbytery is Mrs Penny Archer, who succeeds the Rev John Thornton, who has stepped down after 4 years as Chairperson.  A Minute of Appreciation was given to John for his service.