Eleven members of the Mid North Coast Presbytery attended the Synod meeting held over three days on first weekend of July 2019.
It was thoroughly enriching and spiritually encouraging to experience and interact with inspired leaders young and old, worship that was deeply meaningful, and discussions and decisions that held passion and diversity with thoughtfulness and care. 
Very fulfilling to find myself part of a 'state council' of a Church that takes to heart, mind and action the spiritual, practical, social, theological responsibilities and challenges of being the presence of Christ in this place and time; to feel like and see that I'm part of a Body that is true to the spiritual dimension of Christ and also doing things to address many of the unjust sufferings and disadvantage in our society.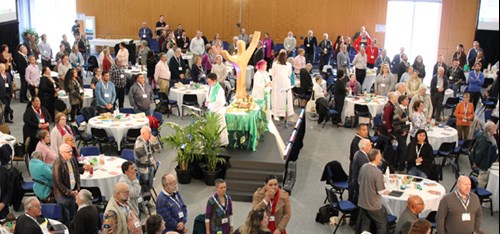 A summary of their comments is:
great time being part of the wider church, and experiencing our diversity
a great opportunity to catch up with old friends and network with new friends
powerful, creative, inspiring worship led by a colourful multicultural team
energetic, vibrant and clearly future oriented 
allowing strong leadership from young participants 
Inspirational, and in depth, bible studies by Rev Peter Walker linked to the theme of Living Church – more below
Interesting guest speakers – again providing diverse input to the Synod theme – more on Pastor Jon Owen below
Strong mission proposals
key matters were discussed in discernment groups, and decisions reached calmly after obvious discernment and refinement
encouraging the church to speak up and act on our Bible-based beliefs - ie strong advocacy on Climate Change, Refugees and Affordable housing 
extremely moving documentary, Half a Million Steps, on UC action for those whose lives have been severely impacted by drug use
affirming our support for First Peoples: agreeing to a proposal that we listen to the 2017 Statement from the Heart made at Uluru and commend the statement to congregations, presbyteries, and agencies. In conjunction with this a commitment to truth-telling.
The most exciting moment for me was when a young Islander woman stood to speak powerfully against people (read older, greying Anglo males) suggesting that the young generation are not mature enough to understand matters of global warming.

A tilting point for our Synod that warmed an old man's heart!

 

This present younger generation are not only smarter than I was at their age; they are smarter than I am now.
The most challenging moment?

When Jon Owen CEO of Wayside Chapel spoke of his trip to India and sharing in the ministry of the Sisters of Mercy, founded by Mother Teresa.

 

Unwanted babies were to be found dumped at the railway station and each morning Jon's host had to rise early and 'run fast to find the babies' before people with less worthy ambition found them first.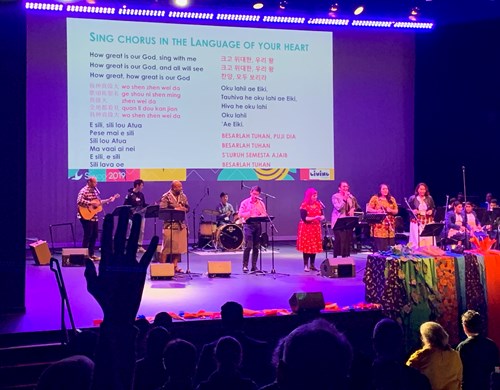 Some negatives were:
limited active participation from Culturally and Linguistically Diverse groups, including NSW Congress of UAICC.
it was planned to hold two groups of workshops which were potentially very interesting, but due to time constraints only one shorted group was held.
A range of videos recorded during the Synod are available at UCA Synod of NSW & ACT's Videos.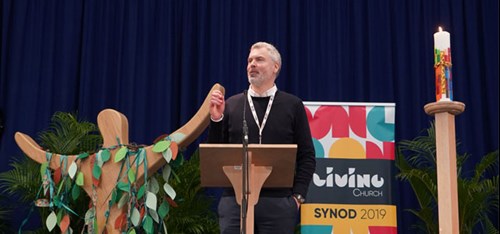 Bible Studies by Rev Peter Walker
Rev Peter Walker is the new Principal of the United Theological College, and he led studies on the Synod theme of The Living Church, with daily themes on Purpose,Focusand Identity.
The associated readings were from Matthew 28:1-10, 2 Corinthians 3:1-18, and Philippians 2:1-13.  These all revolve around (bearing witness to) Jesus Christ, though this is expressed in varying ways.
Christ has to be the focus of the living church and is with each of us who make up this diverse body, even though others may have a different standpoint to us.
None of us knows God better than everyone else.

Only by listening to the witness of others who see God from a different perspective can we learn more about God.
Unity doesn't mean uniformity – Diversity is necessary in order to deepen our understanding of God.
Our unity is not about where we are standing, it is about our focus.

This focus is what holds our unity – refer to St Paul's words to the Corinthians.
St Paul's call to be of one mind means being of one mind with Christ.

An attitude of 'mind-ing Christ'.

 

In the old hymn Paul quotes in Philippians 2:6-11, he adds the words 'even death on a cross' – the centre of the poem is selfless sacrifice.

 

Let this be our mind-set!
The witness of the church of a crucified Lord is neither imperialistic nor aggressive.
Martin Luther's theology of grace led to an understanding of an individual relationship with God, which has been corrupted to the rise of self-importance.

This has led to Identity Politics, which is about 'Us or Them', rather than 'Us and Them'.

 

With God there is only 'We in Him'.
Where do we come from?  - from the hand of God
Where are we going?  - to make disciples
Who are we?  - a people of the living God
Remember God is always with us - Matthew 28:20.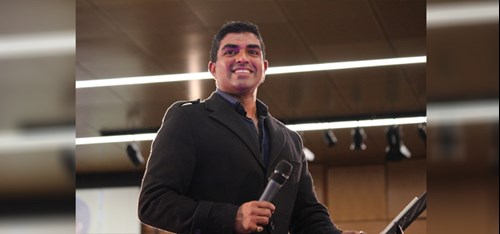 Pastor Jon Owen
Pastor Jon Owen of the Wayside Chapel spoke powerfully on the first day, and also at a multi-cultural youth rally on the second evening.  Some of his points:
In considering what it means to be a Christian he pointed out that to take risks when failure is possible can be called eithercourageor stupidity.
Make sure every act to others communicates Jesus loves them.
A response from a non-Christian: "If you have come to save me , you are wasting your time, but if you have come to tell me that your liberation is somehow tied up with mine, then we have something to talk about."

(Derived from a quote by an Indigenous Australian Lilla Watson.)
Create a community where there is no us versus them.
Building a living church means instead of fences, build deep wells. (This is smart farming practice to attract your flock.)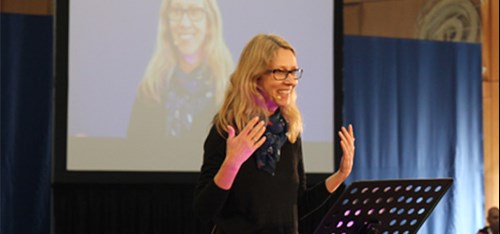 Rev Dr Karina Kreminski
Rev Dr Karina Kreminski is a church leader and church planter. 
Her main thrust was about listening by the church to its community, and being within the community.
Has the church stopped listening to the community in which it finds itself?
Once a church becomes institutionalized does it become concerned about its own preservation, both in a money and outlook sense?
What is God doing in our community outside of the church, ie in our Probus club, at the bowling club etc?
Ar we scared to think of God working in these places? For if we have to think about this, it calls us to then realize God is there and we have to be God's people in these places and give voice to the work God is doing.
We can no longer pretend that we only encounter God at 9.00 am on a Sunday and He is absent in all the other places and events in our lives.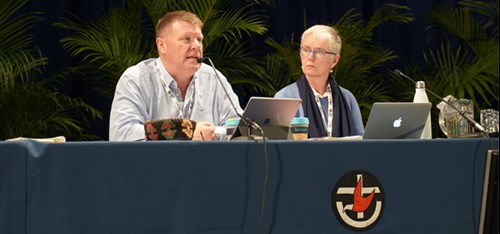 Synod Business
Some of the business dealt with by Synod was:
Having regard to a significant turnover of senior leadership, it was decided to agree with a recommendation that the term of Rev Simon Hansford as Moderator be extended to 6 years.
Notwithstanding the turnover in leadership, we were advised that with improved Synod leadership collaboration, as of 30 June 2019 the Synod debt has been cleared.

And a sustainable budget is in sight.
Focus on Growth: That Synod commit over the next 3 years that we will organise ourselves to prioritise, promote and enable growth in – in discipleship, relationship, number and impact
Actions to support the 2017 Statement to the Heart, and the Assembly's Walking Together resources.
Appointment of members of the next Synod Standing Committee (who deal with detailed decision-making between Synods) and members of Synod Boards.
Report from the Assembly President, Dr Deidre Palmer, including advice that reports of a split with the Free Wesleyan Church of Tonga are incorrect – refer to Blessed by our joyful partnership.
Consideration of the Advocacy priorities of Uniting, which are:

Fair treatment for people needing help to get out of drug addiction
Give Hope: Uniting for Asylum Seekers campaign
Affordable Housing
Environment and climate change
also Domestic and Family Violence; Poker machine gambling reform; capacity building for advocacy at the congregational level

Specific actions within the Synod relating to the 2018 Assembly statement on Climate Change, including explicit support for the young people's climate action rally on 20 September.
A new vision for the Formation process for ministry agents, that will facilitate training in regional presbyteries, and allow recognition of prior study and training.Future training is also to explore the how we can make our ministry agents more mission / church planting focused.
Ongoing support for the Saltbush initiative to encourage and connect our rural and remote congregations.
Ongoing support for the Pulse initiative to grow new faith communities for emerging generations.
Celebration of Ministry for:

Ministers of the Word and Deacons ordained and Lay Pastors commissioned since the 2017 Synod
Ministers admitted since the 2017 Synod
Ministers transferred from other Synods
Retired Ministers of the Word, Deacons, Deaconesses and Lay Pastors
Jubilarians – 40 and 50 years since ordination.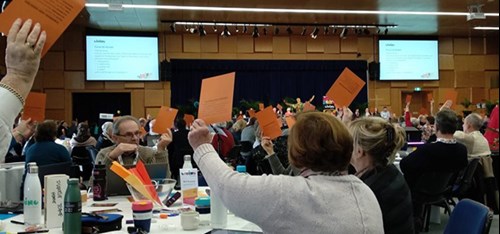 Further reading
The following are individual articles on the NSW/ACT Insights – News website
Living Church Synod 2019: An opportunity for great change
Rev Peter Walker: The Purpose of the Living Church
Rev Peter Walker: The Focus of the Living Church
Rev Peter Walker: The Identity of the Living Church
Jon Owen: What does the world need from the church?
Karina Kreminski: Engaging the local community: the answer to church irrelevancy
Synod Standing Committee Submits Report
Synod Special Event: 'Half a Million Steps' Panel Discussion
Climate Change: Challenge for church to advocate and act